Flour Tortilla Recipe
---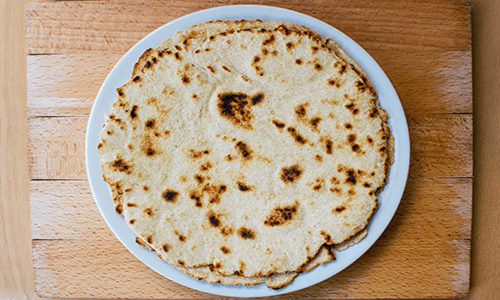 Younger than its brother the corn tortilla, the flour tortilla has gained popularity and largely displaced the original corn tortilla in sales and popularity (in the United States, at least). More malleable and versatile than corn tortillas, flour tortillas lend themselves to a variety of dishes, including:
Taco tortillas - disk-shaped dough that holds meat, cheese, and vegetables.
Quesadillas - meat, cheese, and vegetables placed between two large tortillas and fried or baked.
Burritos - large tortilla filled with meat, cheese, and vegetables that is rolled up and served, usually with a sauce.
Chimichangas - a deep-fried tortilla
The nice thing about flour tortillas is that they are generally more elastic than corn tortillas, making them easier to make in different sizes. Basically, when you're working with a flour tortilla, there is less of a likelihood of it falling apart, which makes it a great choice for the beginner.